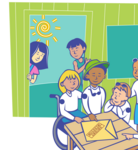 Seeking the Truth
Creative Common by SA License
To write, you have to get looking for truth. Seeking the truth is the happiness' quest. Our spirit have to get the joyful moments. Happiness is an outcome, because our heart desires it.
But, with greed, some people don't want the happiness of others. Opinions distort ours. With these nuisances, we then have an objectivity 's lack.
Seeking objectivity or truth, solves problems before they happen. It also makes it easier to understand problems writing them down. We realize so, that our mistakes come from a self-understanding's lack, or from a prep's lack.
The objectivity's lack is created while being in passivity, with the thinking or acting's lack, while not comparing his opinion to others'. We let our arrogance or our fears filling us.
We then have to verify our words, to use abstraction and analysis, to judge correctly. Today's civilization is full of false judgments, greed, influenced by money.
We look at ourselves more easily while writing than without any thing. We then seek objectivity, in order to get along with our ego. Like this, it does not deny us. So we find our happiness seeking the truth. Happiness comes if you get along with your ego, if you grow too, if you finally like yourself.
We have all used shortcuts in our childish reflections, because childhood is excess. Filling in the shortcuts that we have used and that we still have, mechanically, allows us to anticipate. We then understand our biggest defects, after finding out about our written qualities, with our happiness therefore. If there is little memory, it is necessary to write down how we think, in order to detect our certainties, from a logic.
But thinking about our ego can fill in shortcuts, which then look stupid, because they turn out to be steadily. We wrote not to forget. Shortcuts disappear slowly, being honest to understand our own thinking way.
My Notes
Write about your childhood, that you loved and then that you deplored...
When you are positive, sometimes, faults are revealed wanting to be satisfied. It's very difficult to be completely right at the beginning of your life.