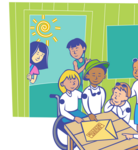 Writing a Story in a Team
Creative Common by SA License
It is possible to write several stories as a team, spinning as many sheets as there are people. We do that limiting sentences' number of words written.
Writing a novel, or an advanced story, requires brainstorming. Brainstorming is finding a story in a team. We choose a theme. Then we try together to rise ideas, depending on the theme. Then we try to create a story, either incredible or lived.
Brainstorming is about looking for as many ideas as possible, grouping them together and saying "if…", in order to find a story. The coordinator knows how to manage the different characters, in order to create unity, so meaning.
Then, each group, or each individual, writes a story, or a part of the story. Showcasing creativity creates rich stories. We can also rise our meaning, our style, our emotion. We can use images, a dictionary, internet.
The one who leads the brainstorming allows :
* To face to reality.
* To find meaning, which will make the book right.
* To write head-on on a blank sheet, saying "if…" searching meaning, not a style.
* To criticize your script, in order to find a style, with the plan in mind.
* To write the story, pictured or real, putting into it lived, felt, with emotions, desires, dreams, opinion, styled.
We must then prepare criticize ourselves, while not getting serious. Any criticism is subjective. If we can't figure it out, then there's something missing into our story.
My Notes
With the chapter creating workshops, in Chapter IV, set up a story with children…